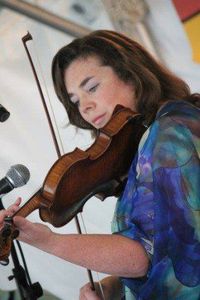 Fiddler Jeanne Freeman is the founder and Director of the Connecticut Academy of Irish Music, where she teaches Irish fiddle to students of all ages.  Classically trained and a professional orchestra violinist in her early years, Jeanne studied Irish fiddling with friend and mentor, late Donegal fiddler P.V. O'Donnell, with whom she played and performed regularly.  
Jeanne has performed as a soloist with the Hartford Symphony Orchestra as the Irish fiddler in the Saint Patrick's Day Celebration at the Bushnell, and appeared on Connecticut Public Television, National Public Radio, and other radio and television programs.  She has been the Guest Artist for the Simsbury Public School String Festival, teaching traditional Irish music to over 200 string students, and has also taught and performed at the "Fiddle Hell" festival and music camp. 
Jeanne has hosted regular traditional Irish music sessions in CT for many years, and has performed at many other festivals and venues, including as a soloist at the Greater Hartford Irish Festival.  She performs often with her Celtic duo, "Ringrose & Freeman", with singer Dan Ringrose, and has been featured in Celtic Life International Magazine.  Jeanne enjoys teaching and has mentored a number of young players who have qualified for and competed in Ireland's prestigious All-Ireland music competition, Fleadh Cheoil na nEireann. 
Jeanne appears on a number of recordings, including her solo CD, "The Fiddler You Are".